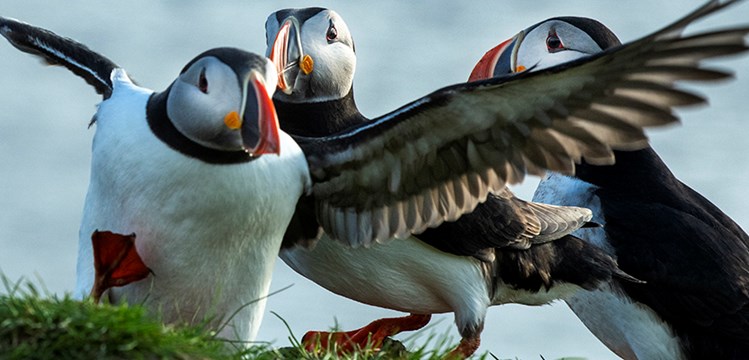 Peaceful Strandir in Westfjords and pristine highlands photo tour.
Unrivaled Beauty from coast to mountains. 10 nights/11 days
2024 July 3-13 seats available. 
This is a bird and landscape photo tour which takes you to many different parts of Iceland. While enjoying the pristine nature of the interior of the south highlands and bird colonies of Strandir in the Westfords where we spend our first days.
Our main goal is to photograph Puffins and other sea birds like European Shag and Kittiwakes. We will do this by taking a short boat ride to a privately owned island called Grimsey situated in Steingrimsfjördur bay. We will also travel further north by the Strandir coastline all the way to Gjögur and Trékyllisvik. After these days in Strandir region we make our way into northwest Iceland before we drive across Iceland from north to south via Kjölur highland road making an overnight stay in the Kerlingafjöll highland resort. This will afford us the opportunity to photograph great colours and hot springs. From there, we head into south Iceland and again into the highlands we call Fjallabak which is like nothing else; craters, black sands, luminous moss and moonscapes. We will photograph the various colours of rhyolite in Landmannalaugar. Here we will also see Langisjór lake with its moonscape, and Eldgjá fire gorge which are on our highland menu before arriving at our cozy Hrifunes guesthouse by the southeast coast. From our base of Hrifunes, we'll take a day tour to Vatnajökull national park for glaciers and spend a local day with less driving to secret spots in the area. During the last day, we drive across Fjallbak highland towards Reykavik.  In our opinion, a tour cannot get more varied than this. Despite being away from all typical tourist areas, we'll enjoy great food and charming, clean country hotels. All rooms have private bathrooms.
Price per person includes all meals, accommodation, photographer/guide, all transportation in our spacious trucks (hotel pick up and drop off within Reykjavik area) and two boat tours to the Puffins: Double occupancy ISK 965.000 —Single occupancy ISK 1.077.000
Group size min 4/max 7 pers.
DAY 1. FROM REYKJAVIK TO GRÍMSEY - THE PUFFIN ISLAND IN STEINGRIMSFJÖRDUR BAY
After pick up at your hotel (around 8AM) We have a few hours' drive with various stops we get to the Strandir region where we stay for next three nights. With the weather on our side we will go the Puffin island in the late afternoon. Hotel by the sea at Drangsnes.
DAY 2. STRANDIR REGION. FJORDS AND BAYS, BIRDS AND SEALS. OLD ABANDONED RUSTY HERRING FACTORY
We drive further north into the Strandir region of westfjords. Perhaps the wildest and the least commercial region of Iceland. Beautiful mountains on one side and the coastline on the other with driftwood and rock formations. Land seals are often to be seen sitting on rocks and cliffs. The fresh smell of seawater and chill wind there is like nowhere else. An old herring station will be on our way as well. Hotel by the sea at Drangsnes.
DAY 3. STRANDIR REGION
With the weather calm we are getting ready for an early wake up and another adventure tour to Grímsey the puffin Island in the morning light.
Hotel by the sea at Drangsnes.
DAY 4. GRÍMSEY ISLAND - STRANDIR REGION - NORTH ICELAND
We leave Strandir region and head to North Iceland with various stops along the way by the coastal line. Overnight in Blönduós at the charming Ölduslod guesthouse which is famous for their adventure culinary.
DAY 5. INTO MID HIGHLANDS AND KERLINGAFJÖLL
After a hearty breakfast we take the highland route from north to south Iceland focusing on Kerlingafjöll Mountains which are our main theme today as well as Gýgjarfoss waterfall. Kerlingarfjöll are known for its colourful canyons and steamy hot springs. Truly a photographer's spot. Overnight at hotel close to Geysir hot spring area.
DAY 6. TO SOUTH HIGHLANDS
We do a very early morning shoot at the famous spouting hot spring Strokkur, well before the crowds arrive. Its fun to photograph the blue bulb that forms split second before it spouts up in the air.
GJáin (the Gorge) with its small waterfalls and the majestic Háifoss waterfall are on today's schedule along with other places. Accommodation highland Hotel Hrauneyjar where we stay for the next two nights.
DAY 7. COLOURFUL HIGHLANDS OF LANDMANNALAUGAR
Early morning shoot into the Fishing lakes area. Midday rest. Afternoon tour into Landmannalaugar. Accommodation at Hotel Hrauneyjareyjar.
DAY 8. TO HRIFUNES VIA HIGHLAND ROAD. LANGISJÓR LAKE IN VATNAJ0KULL NATIONAL PARK
We use this day to travel across the highlands to the south east coast. We photograph the secret - middle earth waterfall and head towards Langisjor and Sveinstindur Mountain for the late afternoon light going via Eldgjá (Fire Canyon) to Hrifunes. Accommodation in Hrifunes.
DAY 9. GLACIERS AND JÖKULSÁRLÓN
We take an easy morning after long days in the highlands and enjoy the late afternoon / evening light around the glaciers and the Glacier Lagoon, Fjallsárlón Lagoon and the black sand beach, often referred to as the "diamond beach" because of the glittering ice on the black sand. Dinner in the area. Accommodation in Hrifunes.
DAY 10. HRIFUNES AREA AND SECRET SPOTS
We enjoy a more relaxed day with shorter drives. We visit an old sailor refuge, which is an old light house situated in an amazing landscape of black sand hills. A secret waterfall is on our schedule as are the mossy covered lava fields along with a few other stops. Accommodation in Hrifunes.
DAY 11. FJALLABAK HIGHLAND ROUTE SOUTH TOWARDS REYKJAVIK
We leave cozy Hrifunes guesthouse behind and drive into the Fjallabak south region via the Highland road behind the Mýrdalsjökull glacier. On today´s schedule is the Maelifell Mountain, which is one of Iceland´s most handsome mountains with its pyramid shape rising out of the volcanic sand. Markarfljótsgljúfur Canyon with its colourful deposits and many more locations. Last on our itinerary will be Gluggafoss waterfall in Fljóstshlid. ETA in Reykjavik around 6 PM.


Accommodation: All accommodation costs during the tour.
Meals: Breakfast from the second day until the last day, picnic or light restaurant lunch every day, dinners from day one until the second to last. 
Transportation & guiding: Professional English speaking driver guide and photographer, Vehicle: 4X4 truck (Jeep) and gasoline. Boat tour x 2.

Not included: 
Cost of flight to Keflavik/Iceland, transportation to and from airport (although this can be arranged) and hotel accommodation in Reykjavík.

more information: info@phototours.is


Climate and clothing recommendations

The Gulf Stream is what makes Iceland inhabitable, and without it, the whole country would most likely be covered by ice. The winters are fairly mild and summers are cool. The weather can be unpredictable and very windy and rainy at times. A popular saying in Iceland is "if you don't like the weather right now, just wait five minutes" as you may occasionally experience the four seasons all in one day: sunshine and mild temperatures to windy, cool temperatures with rain or even snow. The average temperature in January is 0 C (32 F) and the average temperature in July is 12 C (54 F)

In the view of the climate description above, we can only advise visitors to be prepared for everything. No matter what time of year you plan to visit Iceland, always pack some warm and water resistant clothes, hats, gloves and good walking shoes. 

Practical list, independent of the season of the year
Clothes: 

1. Warm underwear

2. Sweater or a warm jacket/coat

3. Wind- and waterproof overcoat and over trousers

4. Extra pair of warm socks

5. Gloves and a cap 
6. Hiking shoes (waterproof boots for winter photo tours)
7. Slippers and possibly light trainers
9. Sunglasses (optional!)

10. Electric converter (Iceland uses 220 volts)
11. Torch or headlight (winter photo tours)