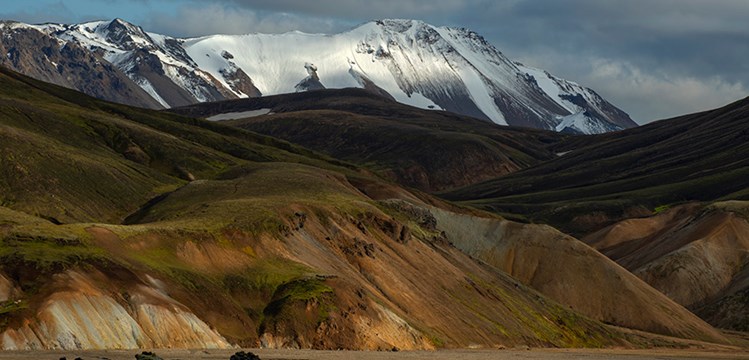 Autumn Highland Tour
September 7-12 / 2020
September 13-18 / 2021
6 days – 5 nights
A combination of the mild Autumn light, and less visitors at this time of year makes this trip to the south Iceland highlands all the more special. We use a special lifted, modified truck, to get us safely over open rivers and primitive roads. Once in these conditions we quite often get to be on our own, enjoying pristine nature in peace, far away from all mass tourism but surrounded by amazing volcanic landscape which you will get to know all about from your photographer guide.
Some of the highlights of this trip include colorful rhyolite mountains in Landmannalaugar, black sand moonscape areas and lava fields covered in green moss, black and brown hyaloclastite mountains, black and red volcanic sand, streams and waterfalls. We go to secret places which very few people get to see;  deep in the highlands, yet its easy to walk around and our Van is always nearby so you don't have to carry your gear long distances.  We will also take a pause from gravel roads and head to Vatnajökull national park with its glaciers outlets and floating icebergs. The Icelandic horse and the Icelandic sheep normally come across our route too. We will take advantage of good light when presented, early morning and late evening. We stay 4 nights at the same accommodation since its location makes it easy to make day tours into the highlands –  plus allows us to choose which locations to go to depending on weather each day since not all places look good in sunlight while others do. This way we can make this tour as successful as possible. If we are lucky and conditions are really good,  there is a good chance of capturing the Northern Lights at this time of year.
Group size min 4 – max 7 persons.
Price per person incl. full board meals, accommodation, photographer as guide and all transport in spaciours trucks ; double occupancy ISK 450.000 / single occupancy ISK 480.000
You are most welcome!
Day 1 : We will head towards the Thjorsárdalur valley and beautiful waterfalls.
You will be picked up around 8-8.30 AM and head towards Thjórsardalur area which is at highlands doorstep. In the afternoon we will take the highland road to the volcanic Veidivötn lakes (Fishing lakes) Accommodation: Highland hotel.
Day 2: Landmannalaugar area.
In Landmannalaugar, you can see plenty of evidence of volcanic activity including the multicolor rhyolite mountains, the Laugahraun Lava Field and the multicolored Brennisteinsalda Mountain with its steaming sulfur pots. Be prepared for 3 hour (moderate) walk around the area, so be sure you bring your hiking shoes. Optional is a shorter and easier hike. Accommodation: Highland hotel.
Day 3: Fjallabak highland route via Volcano Hekla.
A real Adventure to day. We go a remote moonscape highland route called Krakatindaleid into colourful Hrafntinnusker mountains. Accommodation: Hrífunes Guesthouse
Day 4: Langisjór Lake, river Skaftá, Sveinstindur Mountain.
Langisjór Lake lies southwest of Vatnajökull Glacier in a beautiful and picturesque landscape. It is 20 km long and up to 2 km wide. The lake is one of the most beautiful mountain lakes in Iceland with many islands, cliffs and spectacular landscape surrounding it. To the east of Langisjór Lake are the hyaloclastite mountains, Fögrufjöll. Toward the west, you will see Mount Breidbakur, and on the south of the lake are Mount Sveinstindur and the glacial river, Skaftá. We have some secret spots there ;) Accommodation: Hrífunes Guesthouse
Day 5: Glacier day. Fjallsárlón Lagoon - Jökulsárlón Glacier Lagoon
Time to take a break from the gravel roads in the highlands. We will drive east toward Vatnajökull Glacier National Park. There are many places to photograph on the way, but our main theme will be Jökulsárlón Glacier Lagoon and Fjallsár lagoon. Accommodation: Hrifunes Guesthouse
Day 6: Last day. Fjallabak mountain route Hrifunes toward Reykjavík. Mt. Maelifell and Markárfljótsgljúfur Canyon.
We will leave Hrífunes Guesthouse and head back to Reykjavik. We will take a highlands route south behind Mýrdalsjökull glacier where we find the amazing Bláfjallafoss waterfall , Mælifell pyramid mountain and Colour deposits at Markárfljótsgljúfur Canyon along with many other highland pearls. You will be dropped off at your hotel in the Reykjavik area at approx. 6-7:00 pm.
TOUR FACTS
Name of tour: Late summer highland tour
Duration: 6 days/5 nights
Participants: 3-7 persons

Price includes:
Accommodation: All accommodation costs during the tour.
Meals: Breakfast from the second day until the last day, picnic or light restaurant lunch every day, dinners from day one until the second to last day.
Transportation & guiding: Professional English speaking driver guide and photographer, Vehicle: 4X4

Not included:
Cost of flight to Keflavik/Iceland, transportation to and from airport (although this can be arranged), hotel accommodation in Reykjavík. 

more information: info@phototours.is

Climate and clothing recommendations

The Gulf Stream is what makes Iceland inhabitable, and without it, the whole country would most likely be covered by ice. The winters are fairly mild and summers are cool. The weather can be unpredictable and very windy and rainy at times. A popular saying in Iceland is "if you don't like the weather right now, just wait five minutes" as you may occasionally experience the four seasons all in one day: sunshine and mild temperatures to windy, cool temperatures with rain or even snow. The average temperature in January is 0 C (32 F) and the average temperature in July is 12 C (54 F)

In the view of the climate description above, we can only advise visitors to be prepared for everything. No matter what time of year you plan to visit Iceland, always pack some warm and water resistant clothes, hats, gloves and good walking shoes. 

Practical list, independent of the season of the year
Clothes: 

1. Warm underwear

2. Sweater or a warm jacket/coat

3. Wind- and waterproof overcoat and over trousers

4. Extra pair of warm socks

5. Gloves and a cap 
6. Hiking shoes (waterproof boots for winter photo tours)
7. Slippers and possibly light trainers
9. Sunglasses (optional!)

10. Electric converter (Iceland uses 220 volts)
11. Torch or headlight (winter photo tours)