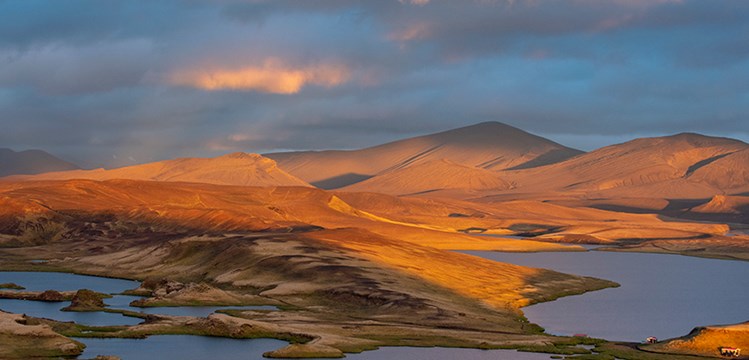 The Ultimate Iceland highland adventure photo tour – August 2021
Unrivaled Beauty from the ground and from air - 11 days around spectacular highlands. 
For 2021 August 3 - 13th (1 spot left) 
For 2022 August 2 - 12th
Group Size; Min 4 Max 6 persons.
We are happy to announce this brand new 11-day tour
–
hard to beat in terms of variety, the number of secret places
we'll visit and magical landscape you'll see. You will be led to the highlands
in the western, northern and southern
parts of Iceland with the expertise of
native Icelandic photographer Haukur Snorrason. This tour takes you from
South to North and back to Southeast Iceland, to the most spectacular highland
pearls Iceland has to offer. The
highland roads are only open late summer.
Also, they can be hard to drive with their open rivers to cross. But these
difficult to reach locations are our specialty, and you will see endless
jaw-dropping spots undiscovered by most
tourists.
Among the amazing waterfalls that you'll see are 
Godafoss, Aldeyjarfoss and Dettifoss in North Iceland. You will
experience moonscape, colorful mountains, green moss-covered mountains, rivers
—
nature's artwork
of lines and patterns decorating the
terrain. On the last days of the tour, we will be ideally located for a
photographic flight (for approx. 2 hrs) into the southern highlands. From the
air, you'll shoot through an open window over the
great Laki Craters, the
colorful Landmannalaugar area, Mt. Maelifell and Mýrdalsjökull Glacier. Nowhere
else in Iceland can you see from the air such a stunning variety of landscapes.
(The flight is optional and weather dependent
and therefore not included in the
tour price.) For most people, flying and photographing over this part of
Iceland is a once-in-a-lifetime experience, as will be many of the places you
visit.
This time of year is late in the puffin season, but we will
still try to go to the puffin colony with a local farmer! (See day 9 in the
tour plan.) All along the way, we'll be staying in 
nice 
hotels with good food and private
bathrooms, as close to
highlands and the places we want to photograph. We take packed lunch with us
during the days, and when weather looks great we'll have a takeaway dinner for best
results while in the field. In August, altitudes of 3-700
meters can be chilly
at times, so warm clothes, including a hat, gloves and windbreakers, are
essential. We do not make any difficult hikes or very long walks, so despite
highland, you are safe to go on this tour as long you are ready
for long days
and can walk on uneven terrain. In this regard, we only have one half-day walk
worth mentioning (see Tour Plan- day 5). Otherwise, the truck is always nearby
so, you won't need to carry your gear long distances.
10 days / 9 nights 
- Price includes:
All accommodation during the tour. Full board meals, transportation & guiding: Professional English speaking photographer as guide, Vehicle: Modified spacious 4X4 truck
-not included: Puffin cape visit and aerial photo flight. 
Price per person: double occupancy is ISK 925.000.-  / Price per person: single occupancy is ISK 1.035.000
Scroll down for itenirary. 
DAY 1: FROM YOUR HOTEL IN REYKJAVIK TO THE HIGHLANDS.
Hotel pickup is at 8:15 am. We then head to the Hellisheidi geothermal area, 30 min. outside Reykjavik for the first shoot. We travel into the interior via Gullfoss Waterfall along Kjölur (Keel), a highland route, which takes us from South to North Iceland. We stay midway in a small hotel in Kerlingarfjöll Mountains (Women's Mountains) for 2 nights. This allows us to explore the area well and at ease, making various stops on the way. Accommodation Kerlingafjöll.
DAY 2: THE COLORFUL KERLINGAFJÖLL MOUNTAINS
Kerlingafjöll Mountains are an old volcano with geothermal heat and hot springs bubbling in the hills. Many mineral deposits color the hills, you will see mud pots and steam rising into the air. The photo opportunities are endless. We will choose the best light and spend a good part of the day in this area.
Accommodation Kerlingafjöll.
DAY 3: KJÖLUR ROUTE TO NORTH ICELAND - ICELANDIC HORSES, GODAFOSS WATERFALL
Before driving out of the highland into North Iceland, we stop at Hveravellir (the field of hot springs). It is very different from the Kerlingafjöll area. We have some driving to do through the farmlands in the north and on the way will look for Iceland horses to photograph. The final aim of the day is to be at Godafoss Waterfall in the early evening until sunset.. Accommodation near lake Mývatn.
Day 4 : Early morning shoot at Hverarönd geothermal area. Jökuslárgljúfur National park and the majestic Dettifoss waterfall and Hafragilsfoss waterfall. Crater walk.
We take an early morning start in order to be well ahead of other tourists at the thermal area at Hverarönd. After the shoot we come back to our hotel for breakfast and some rest. After lunchtime we drive to Jökulsárgljúfur national park where we find Iceland´s most powerful waterfall along with other great locations such as Hafragilsfoss and Selfoss. We finish the day by walking around the rim of the great explosion crater in Krafla area named Víti - or in English - Hell ;) Accommodation near lake Mývatn.
DAY 5: SPRENGISANDUR HIGHLAND ROAD TO THE SOUTHEAST - ALDEYJARFOSS WATERFALL, SAND DUNES AND LUMINOUS MOSS
After a good breakfast and checkout, we head back to the southern interior via Sprengisandsleid highland road. We will come across Aldeyjarfoss Waterfall, which like Godafoss, is one of the most photogenic waterfalls in Iceland with its surrounding columns. A little further down the road is a very different looking waterfall, which is also fun to deal with. From here onwards are barren fields, sand dunes with small streams surrounded by luminous highland moss. The day will finish at fishing lakes, which are a row of craters filled with water and sandhills, creating a moon-like landscape. Tom Cruise shot scenes in his future film Oblivion there. Accommodation highland hotel.
DAY 6: SULFUR MOUNTAIN IN LANDMANNALAUGAR, MIDDLE EARTH WATERFALL
We relax a bit after a long drive the previous day and leave for a day tour to Landmannalaugar. The first stop will be photographing the middle earth waterfall with its Turkish blue water. We aim to[Esther He1] hike to[Esther He2] the sulfur mountain to be there at the right time in the afternoon for the perfect angle of the sun to photograph one of the most colorful canyons in Iceland. This hike is at a slow pace, approx. 3-4 hrs. Accommodation highland hotel.
DAY 7: BEHIND HEKLA TOWARDS HRAFNTINNUSKER MOUNTAINS
After a good breakfast and then we head deep into the highlands and higher to the Hrafntinnusker area. We take the highest highland road in Iceland—around 1000 meter altitude in an impressive colorful, thermal area. We drive past Hekla Volcano ash and lava, volcanic sand fields where Ridley Scott shot his future film Prometheus in 2012. Unnamed waterfalls and colorful hills and mountains adorn the area. It is hard to get more remote than this. Takeaway lunch and dinner from hotel. Accommodation highland hotel.
DAY 8: LANGISJOR LAKE, SKAFTÁ RIVER, THE GREEN ISLAND, FIRE GORGE
After checkout, we head to the remote Langisjór Lake. Langisjor lake lies between Fögrufjöll, a row of mountains formed in an eruption during the ice age. We also drive around the landmark mountain Sveinstindur and walk to the overlook of the "green island" that the Skaftá River surrounds with its glacier water. Here, luminous green moss is common in the mountains. Also, in this area, Eldgjá Canyon awaits us at the end of this day. Next, we check into the cozy www.hrifunesguesthouse.is, which belongs to our company. I promise you extra good meals once there ; ) Cosy country stile and good food is what Hrifunes guesthouse is known for, the guesthouse has been ranking over 9,3 past years on Booking.
DAY 9: AERIAL PHOTOGRAPHY OVER SELECTED HIGHLAND PEARLS
This day (or following day), in good weather, we fly approx. 2 hrs. over the highlands to places you can only reach from the air. We will see an amazing row of craters, river patterns, lakes, colourful mountains lava fields, moonscapes and glacier outlets. Nothing compares to this experience. Flying is optional for each person and not included in the tour price. During the other half of the flying day, we will photograph locations in the area of Hrifunes.. Accommodation Hrifunes guesthouse.
DAY 10: THIS IS AN OPEN DAY BASED ON CONDITIONS WITH PUFFINS..., GLACIER LAGOON, HIGHLANDS
Our first choice would be to go with a local farmer to Ingólfshöfði headlands for puffin photography. (He takes us out there early morning on a hay wagon before tourist groups arrive. https://www.fromcoasttomountains.com/ingolfshofdi-photo-tour Now is around the end of the puffin season and they leave the cliffs around this time, so we can't guarantee this one. If the puffins are gone, we will spend the full day in the Vatnajökull National Park area with its glacial outlets and floating icebergs. Note: The puffin tour is not included in the tour price. Accommodation Hrifunes guesthouse.
DAY 11: FINAL DAY, HIGHLAND ROUTE TO REYKJAVIK VIA MOUNT MAELIFELL AND MARKARFLJÓTSGLJÚFUR CANYON
We will photograph Mt. Maelifell in the morning light where it stands, green moss covered, out of the black sand plain. The other big theme of the day is Markafljótsgljúfur Canyon with its volcanic colours and colour deposits. ETA in Reykjavik between 5 and 6 PM.
Price includes:
Accommodation: All accommodation costs during the tour. Pick up and drop off at hotel in Reykjavik.
Meals: Full board meals on tour
Transportation & guiding: Professional English speaking driver guide and photographer, Vehicle: 4X4 truck and gasoline.

Not included:
Cost of flight to Keflavik/Iceland, transportation to and from airport (although this can be arranged) and hotel accommodation in Reykjavík. Aerial photo flight over the highlands. Possible Puffin tour to Ingólfshöfði headlands. 

more information: info@phototours.is

Climate and clothing recommendations

The Gulf Stream is what makes Iceland inhabitable, and without it, the whole country would most likely be covered by ice. The winters are fairly mild and summers are cool. The weather can be unpredictable and very windy and rainy at times. A popular saying in Iceland is "if you don't like the weather right now, just wait five minutes" as you may occasionally experience the four seasons all in one day: sunshine and mild temperatures to windy, cool temperatures with rain or even snow. The average temperature in January is 0 C (32 F) and the average temperature in July is 12 C (54 F)

In the view of the climate description above, we can only advise visitors to be prepared for everything. No matter what time of year you plan to visit Iceland, always pack some warm and water resistant clothes, hats, gloves and good walking shoes. 

Practical list, independent of the season of the year
Clothes: 

1. Warm underwear

2. Sweater or a warm jacket/coat

3. Wind- and waterproof overcoat and over trousers

4. Extra pair of warm socks

5. Gloves and a cap 
6. Hiking shoes (waterproof boots for winter photo tours)
7. Slippers and possibly light trainers
9. Sunglasses (optional!)

10. Electric converter (Iceland uses 220 volts)
11. Torch or headlight (winter photo tours)