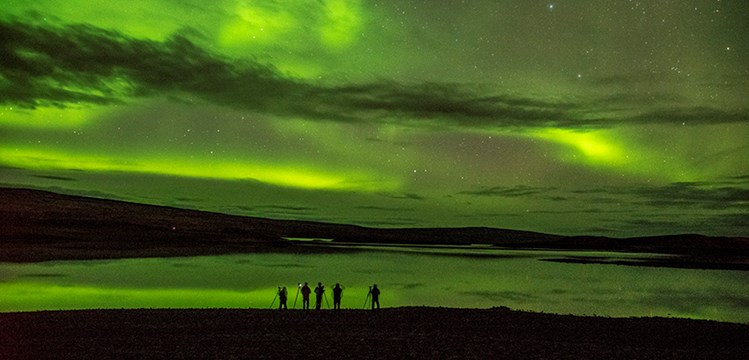 Ice-Cave & The Northern Lights Winter Photo Tour
5 days and 4 nights
2 February - 6 - 2021
Min 3 Max 7 persons
Please note : With reasonable notice;  a private tour can be arranged on suitable dates.
About the tour:
This tour will take you to many sites in west, south and south-east Iceland. We will photograph waterfalls, horses, hot springs, black sand beaches, lava fields, glacier outlets, ice caves, floating ice bergs as well as ice bergs lying in the black sand. Hope for beautiful winter sunrises and sunsets which we will take full advantage of. As well as photographing more known sites, we will also photograph less traveled spots that few people go to. We will keep a look out for the northern lights every night and visit the best ice cave available for photographers;  we work with a local guide from the most experienced company in the area of Vatnajökull glacier to assure the best results. Winter in Iceland can be a mixture of all the weather you can think of, even in one day,  but our experience is that varied winter weather can also offer the most amazing photographic opportunities and in mild light you can only have this time of year.
Group size 4-8
Price per person incl. Full board meals,accommodation photographer guide, Ice cave tour and all transport in spacious modified truck. 
double occupancy ISK 369.000.-
Price per person: sgl occupancy ISK 423.000.-
Day 1: Hraunfossar waterfalls, Hvalfjordur bay, sunset at spauting hot spring.
Your photographer, driver guide will pick you up at your hotel in Reykjavik around 7.30 AM starting by going west to one of the most amazing waterfalls in Iceland to photograph, called Hraunfossar with its many sections. This area is also good to photograph horses. We will stop at a well-hidden waterfall few people get to see once we get into south Iceland. We finish our day at hot spring Strokkur at sunset with the option to photograph it at first light tomorrow morning. Strokkur Is the the only spouting hot spring in Iceland. It can be fun to try photographing the bulb before it spouts 20 meter up into the sky. Close by is the largest and most famous waterfall in Iceland, Gullfoss. In the evening we will keep out a Northern lights watch. Accommodation: Hotel Gullfoss.
Day 2: First light at Geysir area, south coast and waterfalls.
If we are lucky and weather conditions allow us, we will hope to catch the sunrise this morning at Strokkur spauting hot spring. We will then check out and head towards the south coast of Iceland where we come across great waterfalls such as Gljufrabui and Skógafoss among other interesting things that may come our way to Hrifunes, it depends on light and weather what we do this day since we go back trough the south coast on last day. Accommodation Hrifunes guesthouse.
Day 3: First light shoot at Reynisfjara beach and sea stacks. Rest of day - away from touristic places to Hjörleyfshöfdi cape, Eldhraun lava field, horses by a farmer friend.
We will be well before sunrise in Vík at Reynisfjara beach with its Reynisdrangar sea stacks and hope for nice light in the background. We will also photograph two rocks that stand out and alone in black sand desert in Mýrdalssandur sand. We will have a warm lunch in our guesthouse before we head out to photograph horses in our area, old church and the amazing pseudo craters at Álftaver. Eldhraun lava from Laki eruption 1783, largest lava flow seen to man in historic times, will be on todays list as well. As with other evenings on this tour, we will keep a lookout for the Northern Lights, as there is no light pollution in the Hrifunes area, we are in a perfect spot to photograph by the pond below. Accommodation: Hrifunes guesthouse
Day 4: Ice Caves !
We leave our cosy guesthouse in Hrifunes behind and head east towards Vatnajökull - Europe´s largest glacier where we will meet up with our glacier guide (who comes from the most experienced company in the area; Local guide) The Ice caves are a natural amazing phenomenom that form in early winter and melt down each spring.Then next winter you have a completely new ice cave, so we never know what to expect year to year, but we always hope for the amazing texture and the Turkish blue colour. In the past few years Ice cave visits have become very popular, not only by photographers but by all travellers. This means its getting harder for photographers to set up their tripods and photograph to their likings. We therefore hire a glacier guide for most of the day which allows us to go to the best Ice cave available at the time and wait out other groups if needed - since we will have more time than others to spend in the caves. Going to the best Ice cave can possibly involve some walking to get to these caves but walk around inside the caves is normally easy. Accommodation: Hali guesthouse
Day 5: Ice bergs, glacier outlets. South coast to Reykjavik
We have a long journey to Reykjavik but we start the day at first light on the black sand beach where we find Ice bergs lying on the black sand beach. But we have also many other places to photograph like Fjallsárlagoon glacier outlet, Svínafellsjökull glacier, and more importantly; all the no name places that are interesting to photograph, since this 450km route towards Reykjavik has the most varied and stunning landscape you can find in Iceland. Estimated arrival time in Reykjavik around 19.00PM
TOUR FACTS
Name of tour: Ice Cave and Northern Lights Winter Photo Tour

Accommodation: All accommodation costs during the tour.
Meals: Breakfast from the second day until the last day, picnic or light restaurant lunch every day, dinners from day one until the second to last. 
Transportation & guiding: Professional English speaking driver guide and photographer, Vehicle: 4X4 truck (Jeep) and gasoline.

Not included: 
Cost of flight to Keflavik/Iceland, transportation to and from airport (although this can be arranged) and hotel accommodation in Reykjavík.

more information: info@phototours.is


Climate and clothing recommendations

The Gulf Stream is what makes Iceland inhabitable, and without it, the whole country would most likely be covered by ice. The winters are fairly mild and summers are cool. The weather can be unpredictable and very windy and rainy at times. A popular saying in Iceland is "if you don't like the weather right now, just wait five minutes" as you may occasionally experience the four seasons all in one day: sunshine and mild temperatures to windy, cool temperatures with rain or even snow. The average temperature in January is 0 C (32 F) and the average temperature in July is 12 C (54 F)

In the view of the climate description above, we can only advise visitors to be prepared for everything. No matter what time of year you plan to visit Iceland, always pack some warm and water resistant clothes, hats, gloves and good walking shoes. 

Practical list, independent of the season of the year
Clothes: 

1. Warm underwear

2. Sweater or a warm jacket/coat

3. Wind- and waterproof overcoat and over trousers

4. Extra pair of warm socks

5. Gloves and a cap 
6. Hiking shoes (waterproof boots for winter photo tours)
7. Slippers and possibly light trainers
9. Sunglasses (optional!)

10. Electric converter (Iceland uses 220 volts)
11. Torch or headlight (winter photo tours)