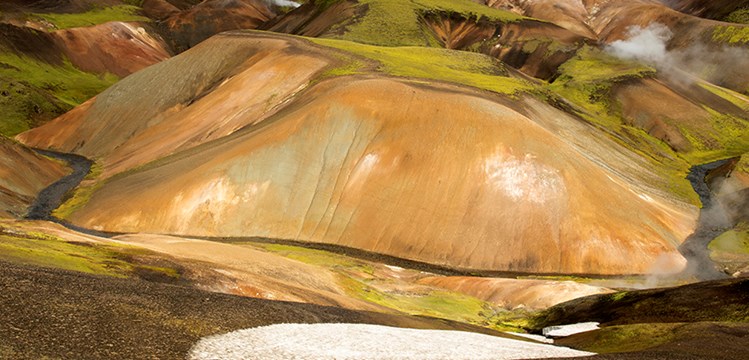 Pristine Highlands and Bird Colony
July 28 - August 1 - 2020
(With reasonable notice,  this tour can also be arranged as a private tour on suitable dates.)
5 days / 4 nights
About the tour:
This tour is about getting away from the tourist places as possible but be in most amazing places to photograph. This we can do in the highlands. You will see light colours of Rhyolite, luminous moss covered mountains, winding rivers and patterns, volcanic and moonscape areas, amazing waterfalls, multicolour thermal areas and secret spots – since our speciality is to take you into remote areas on our modified trucks to photograph landscape few get to see,  since some of these locations are little known and are difficult to get to which shows in some areas where we are almost alone big part of the day. We stay in nice clean hotels with good food, and we make day tours from there into the best photographic places we know about. And being a small group we can take any 4×4 highland road and stop where we want when ever good light is presented. We are not in Bus mode here. But to make the experience even more diverse, we take a day by the costal line and go on a Puffin tour with a farmer on a special early morning departure to Ingólfshöfði headlands, where we get to spend few hours photographing the Puffins as they come flying in with fish in their mouth. This Puffin tour is designed for small group photography and starts before daily tourist tours arrive. During this tour we will take advantage of the best light available and rest accordingly. We take lunch packs with us into the field, and if weather looks promising we take dinner with us as well to enjoy the best light available in the most remote places.
Group size 4-7
Price per person incl;  full board meals, accommodation, photographer as guide and all transport in spaciours trucks  : double occupancy ISK 391.000,- / and single occupancy ISK 449.000,-
Day 1: Landmannalaugar area.
During this day we drive trough volcanic areas, volcanic sand dunes and visit few craters. We hike 3-4 hrs slow pace round trip to the colourful Brennisteinsalda or Sulphur mountain and photograph one of the most colourful canyons in Iceland. Highland hotel.
Day 2: Colourful Geothermal area. Volcano Hekla.
We take a real adventure highland road today passing volcano Hekla on route to a little visited geothermal area in almost 2700 feet altitude. Amazing colours and thermal steam. You will never see a bus up here ! Highland hotel
Day 3: Exotic Langisjór Lake area.
This remote Lake was only discovered in the 18th century. Moonscape and exotic surroundings. Mossy green mountains stand out of the black sand dunes. Close by Langisjór is a great overlook over Skaftá river and the 1783 lava field with colourful lakes and ponds. Ófærufoss waterfall in the fire Canyon is on the menu as well. Hrifunes
Day 4: Puffin day. Glacier day.
We take a early rise and head to Ingólfshöfði headlands which hosts one of the best Puffin colonies to photograph. We join the farmer who takes us on a special photo tour departure on his tractor pulled hay wagon over the wet sand dunes. Rest of day we spend in Vatnajökull Glacier National Park. Icebergs and diamond beach. Hrifunes
Day 5: Highland route south to Reykjavik.
We go back into the southern part of the highlands where we see varied landscape with many colours. The pyramid mountain, the green and black sand texture valley, Markarljótsgljúfur canyon and varied vistas. Gluggafoss waterfall is the last one for the day before we head to Reykjavik. ETA around dinner time.
Accommodation: All accommodation costs during the tour.
Meals: Breakfast from the second day until the last day, picnic or light restaurant lunch every day, dinners from day one until the second to last. 
Transportation & guiding: Professional English speaking driver guide and photographer, Vehicle: 4X4 truck (Jeep) and gasoline.

Not included: 
Cost of flight to Keflavik/Iceland, transportation to and from airport (although this can be arranged) and hotel accommodation in Reykjavík.

more information: info@phototours.is


Climate and clothing recommendations

The Gulf Stream is what makes Iceland inhabitable, and without it, the whole country would most likely be covered by ice. The winters are fairly mild and summers are cool. The weather can be unpredictable and very windy and rainy at times. A popular saying in Iceland is "if you don't like the weather right now, just wait five minutes" as you may occasionally experience the four seasons all in one day: sunshine and mild temperatures to windy, cool temperatures with rain or even snow. The average temperature in January is 0 C (32 F) and the average temperature in July is 12 C (54 F)

In the view of the climate description above, we can only advise visitors to be prepared for everything. No matter what time of year you plan to visit Iceland, always pack some warm and water resistant clothes, hats, gloves and good walking shoes. 

Practical list, independent of the season of the year
Clothes: 

1. Warm underwear

2. Sweater or a warm jacket/coat

3. Wind- and waterproof overcoat and over trousers

4. Extra pair of warm socks

5. Gloves and a cap 
6. Hiking shoes (waterproof boots for winter photo tours)
7. Slippers and possibly light trainers
9. Sunglasses (optional!)

10. Electric converter (Iceland uses 220 volts)
11. Torch or headlight (winter photo tours)