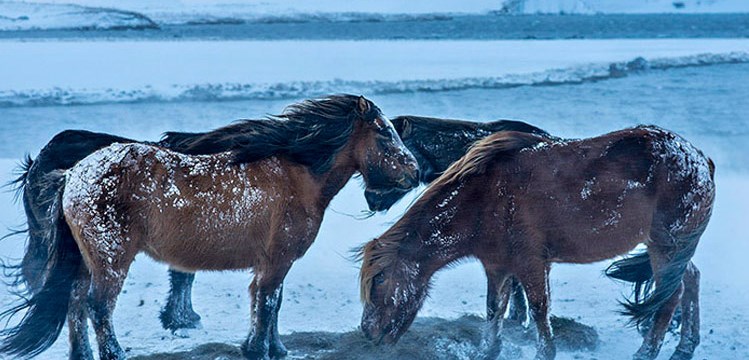 Grand Winter Photo Tour Around Iceland
Visit all the major sights around Iceland and photograph them in winter mode.
9 nights/ 10 days  
Scheduled departure: January 23 – February 4 – 2019
( With reasonable notice: Also available for private groups for any chosen date mid January – mid March.)
About the tour:
During this tour, you will experience Iceland through various weather conditions and have the opportunity to photograph extreme landscapes in ever changing colors. Despite the winter, Iceland is not always covered in snow, and due to the low sun and varied weather conditions between North and South Iceland, the island displays exceptionally beautiful light and contrasts, which give way to plenty of variety in your photographs. We will take advantage of sunrises and sunsets when ever offered at the best spots available.  We will go out for Northern lights hunt every time the weather allows. We have never done a 10 day tour without at least one good Northern lights evening, sometimes more. We will take Route 1 along with few detours, stopping at any place known or unknown, that can give us good light and good photo opportunity.
The main sights on this tour are Hraunfossar in west, Godafoss waterfall and the Lake Mývatn area in northeast Iceland with its lava formations, craters and geothermal areas, the Glacier Lagoon and Vatnajökull Glacier National Park with its ice caves and floating ice bergs, the black sand beaches in the south, numerous waterfalls along this 1,400 km route in all their shapes and winter forms, old houses, the Icelandic horse and anything else that we may come across that looks interesting. We may experience strong winds which offers blowing snow in low winter sun, frozen snow on horses and iced waterfalls and hopefully bright nights with stars out and hope of Aurora. So dress warm 
We will stay at carefully chosen hotels with good locations and delicious home cooked food. All rooms have private bathroom facilities. Some days we will take packed lunches with us which allows us more freedom in the field when needed. Driving around Iceland in wintertime is like a box of chocolates, you never know what you are going to get !
Price includes;  All accommodation during tour, full board meals as from lunch on day one – lunch on last day. All Transport in a lifted super jeep ( Van) .Professional photographer as guide with 12 year experience of tour leading and over 30 years of winter driving.
Group size min. 4 – max 8
Price per person: double occupancy is ISK 813.000.-
Price per person: single occupancy is ISK 895.000.-
Day 1: West Iceland – Old house, Horses, Hraunfossar falls into north Iceland.
We will pick you up from your hotel around 8:00 am and drive towards Hvalfjordur-Fjord to photograph the lonely house and Þórufoss waterfall. From there towards Borgarfjordur Fjord. Main stop of the day is Hraunfossar Waterfalls (Lava Waterfalls) and another spectacular waterfall close by, Barnafossar (Children's Waterfall according to folklore). In this area we have a good chance to photograph the Icelandic horses. This night - like all nights during the tour we be on the Northern lights watch, ready to go out if conditions are right. Accommodation: Hotel in north Iceland.
Day 2: North Iceland. Horses, Canyon, Godafoss waterfall.
We take off and start with going to a nearby beautiful canyon with its forms and waterfalls. We go through north Icelands farmlands, photograph horses in their natural habitat. Afternoon we spend at Godafoss waterfall until sundown. Northern lights hunt in the evening. Accommodation in Mývatn.
Day 3: Lake Myvatn. Sunrise at a geothermal area. Old traditional houses. Godafoss.
We take off well before sunrise to be at the geothermal area at first light. During day we take a easy walk by the lake and photograph rock formations. A little rest and nice lunch at our hotel. We photograph an old traditional Icelandic farm in the afternoon and then we do second attempt and different side of one of Icelands most handsome waterfall, Godafoss. (The waterfall of the Gods) Northern lights hunt in the evening. Accommodation in Mývatn.
Day 4: North to east highland hotel.
North to east highland hotel.
Day 5: From North east to South East.
We will do shoot at sunrise in this spectacular mountain ring that Mödrudalur is. Check out and head towards the coastline at the east fjords of Iceland, with its many bays and steep mountains. We will do sunset by the coast before we get to the small fishing village of Höfn. If Northern lights are presented we will head to the handsome Vestrahorn mountains. Accommodation in Höfn.
Day 6: First light at Vestrahorn mountain. Glacier Lagoon.
We will be at first light at the beach at Stokksnes to photograph the vistas of Vestrahorn area. Glacier Lagoon in the afternoon. Sunset at the beach by the Glacier Lagoon. Northern lights hunt. Accommodation close to Glacier Lagoon.
Day 7: Ice cave day.
This day is all about the ice cave. We meet with our glacier guide who is the most experienced in Iceland in this field. (He comes from a reliable local company; Coast to Mountains) Ice caves change year to year in size and shape so we never know what to expect but we always hope for the amazing blue colour. This tour takes all day long, you can expect about 3 KM walk each way to the cave. Tripods are needed. Rest at hotel, dinner and if presented; Northern lights hunt at the Ice lagoon. Accommodation: Close to the Glacier Lagoon.
Day 8: Sunrise at the beach with Icebergs, Glacier outlets.
We get ready for first light at the Glacier Lagoon. Check out at ease, then we start moving along Vatnajökull Glacier National Park. We stop at Fjallsárlón ice lagoon and Svínafellsjökull glacier tong. Northern lights hunt by the pond in Hrifunes. Accommodation; our own cosy Hrifunes guesthouse.
Day 9: First light at Reynisfjara beach. Lonely rocks at Mýrdalssandur sand.
We take an early start an drive towards the black sand beach with the Reynisdrangar sea stacks. This time of year sunrise is right behind the stacks. Afterwards we drive down to cape Hjörleifshöfði and the lonesome rocks that stand out of the black sand. Lunch and a rest at our guesthouse. Afternoon we spend photographing horses in the area and the pseudo craters in Álftaver. Northern light hunt by the pond. Accommodation Hrifunes guesthouse.
Day 10: Final day. South coast to Reykjavik.
We enjoy the breakfast at Hrifunes, check out and head to the cliffs at Dyrhólaey headland. Stopping by various places like Skógafoss waterfall and Gljúfrabúi waterfall. ETA in Reykjavik 5PM.
TOUR FACTS
Name of tour: Grand Winter Photo Tour 
Duration: 11days/10 nights
Departure: January 29, 2019

Price includes:
Accommodation: All accommodation costs during the tour. Ice cave visit.
Meals: Breakfast from the second day until the last day, picnic or light restaurant lunch every day, dinners from day one until the second to last day.
Transportation & guiding: Professional English speaking driver guide and photographer, Vehicle: 4X4 truck (Jeep) and gasoline.

Not included: 
Cost of flight to Keflavik/Iceland, transportation to and from airport (although this can be arranged) and hotel accommodation in Reykjavík.

more information: info@phototours.is

Climate and clothing recommendations

The Gulf Stream is what makes Iceland inhabitable, and without it, the whole country would most likely be covered by ice. The winters are fairly mild and summers are cool. The weather can be unpredictable and very windy and rainy at times. A popular saying in Iceland is "if you don't like the weather right now, just wait five minutes" as you may occasionally experience the four seasons all in one day: sunshine and mild temperatures to windy, cool temperatures with rain or even snow. The average temperature in January is 0 C (32 F) and the average temperature in July is 12 C (54 F)

In the view of the climate description above, we can only advise visitors to be prepared for everything. No matter what time of year you plan to visit Iceland, always pack some warm and water resistant clothes, hats, gloves and good walking shoes. 

Practical list, independent of the season of the year
Clothes: 

1. Warm underwear

2. Sweater or a warm jacket/coat

3. Wind- and waterproof overcoat and over trousers

4. Extra pair of warm socks

5. Gloves and a cap 
6. Hiking shoes (waterproof boots for winter photo tours)
7. Slippers and possibly light trainers
9. Sunglasses (optional!)

10. Electric converter (Iceland uses 220 volts)
11. Torch or headlight (winter photo tours)